You're a student in a secondary school or a student in higher education ? You would like to create a yearbook but think it takes too much time ? This article is for you ! Here are the 8 steps to make a wonderful yearbook and collect your best school memories in no time. Who said making a yearbook is hard ?! 😉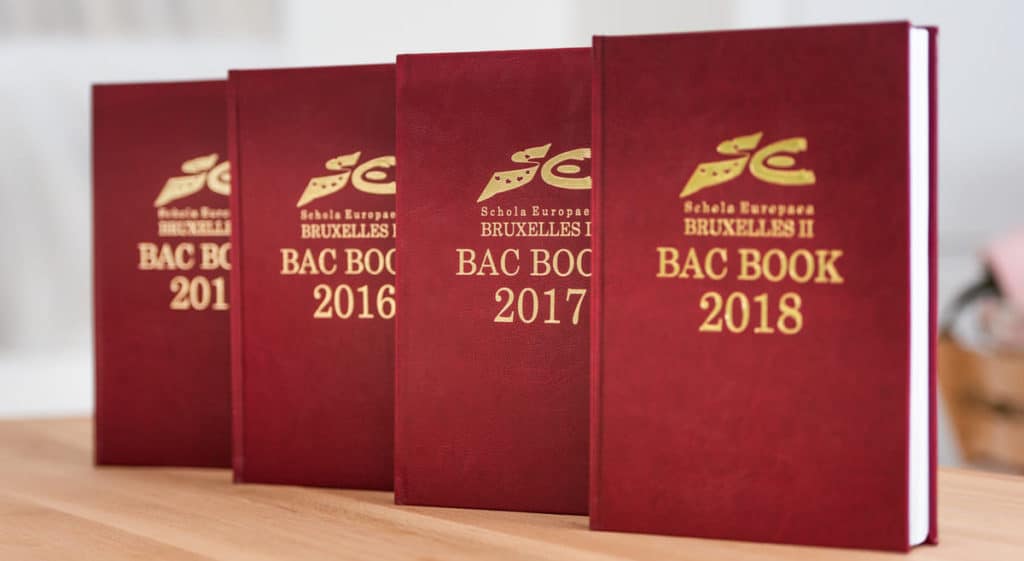 Thank you for reading this post, don't forget to subscribe!
1. Assign a role to each committee member
There's not yet a yearbook committee in your school or faculty ? Contact your friends who would be motivated by the project and get together to make the yearbook !
Are you already on the committee ? Perfect ! All you have to do is assign the different roles. It could be for example: a person who supervises the whole project, a treasurer who collects money from the students, a person per class who collects information and photos from the students, etc. The roles vary according to the needs and of each school.
2. Take a survey among students and define a budget

Start by polling the students in each class to find out who is or is not interested in a souvenir book and what budget each is willing to give. There are easy ways to do online surveys, for example on Facebook! Once you have received everyone's feedback, you can determine the total number of yearbooks to print and thus set an amount that should not be exceeded.
Do not hesitate to create a Whatsapp or Messenger group to communicate easily and remotely. Facetime is also a good way to have group meetings while staying at home.
3. Organize the yearbook into sections
Next, determine what content you want to put in the yearbook and divide it into different sections. This allows you to know the number of pages to print (1 page = 2 sides).
For example, you can create a "students" section where each has 2 fully dedicated faces. If there are 100 students, count 100 x 2 sides = 200 sides (100 pages). A smaller section, such as "testimonials" could contain 2 to 4 sides. And so on…
Do you wonder "what to put in a yearbook" ? Click here for some ideas !
4. Communicate the information to Yearbook Memories
Once all these important points have been clarified, all that remains is to communicate them to us. Indeed, it is the number of copies to print, the number of pages, as well as the type of cover that will mainly determine the price of the yearbook.
Don't know what type of cover to choose for your yearbook? Click here to see our examples.
At Yearbook Memories, our team supports students and follows their project from the start. Either we start from your budget limit and we advise you on the number of pages and the cover to choose, or we set a price per yearbook according to your 3 criteria. In any case, we always find the best solution to stay within your student budget.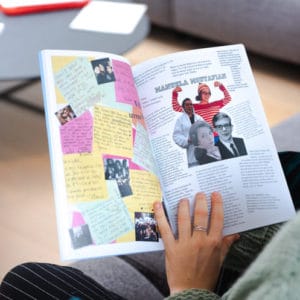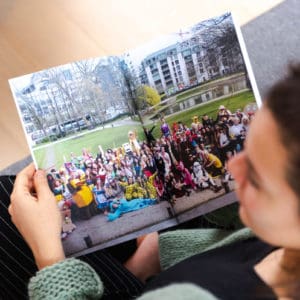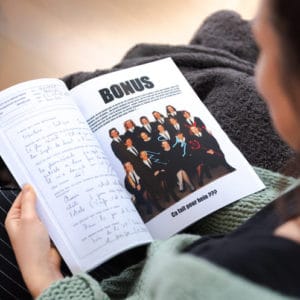 5. Collect information from students and teachers
Next step: contact the students and teachers! Write a single email that summarizes all the information each person needs to send you. This could be, for example: their personal quote, their answers to your standard questions, student photo portraits, photo portraits of teachers, class photos, babies photos, school trip photos, etc. Feel free to add a submission deadline so you have time to chase after the latecomers.
6. Collect money from your classmates
The price of each book has been set ? Start collecting money from each student, because the payment proves their commitment. This therefore avoids last minute cancellation!
7. Make the design of the yearbook
Let's get to the fun part: create the design of the souvenir book! If you have some graphic design knowledge, there are graphic design programs like Indesign from the Adobe suite.
You don't know too much about graphism? Our Yearbook Memories web application allows students to create their online yearbook, with others and remotely! In addition, it is easy to use, it provides dozens of easy-to-use graphic tools to personalize your pages with hundreds of pre-established visuals.
8. Print the yearbooks and arrange delivery
Once the design of your yearbook is complete, we go to the printing part. Just send us the file in PDF format. If you use our app, it is automatically sent to us to print the yearbook.
Finally, the long-awaited moment arrives : the delivery of the yearbook. At Yearbook Memories, we take care of the delivery to your school or at home! Do not hesitate to contact us, our team is available to answer any questions.
To receive more tips and examples of yearbooks, follow us on social medias 😉